What's Up, Doc?
Yesterday was Mason's 12 month well check. I called at 9am to schedule it, got in at 11am (during Tyler's lunch so he could go, too). Anyone else schedule their appointments the same day? You know, every time we go to the clinic, we are the only people there. That's the good thing about our small town clinic. The bad thing? I don't agree with 80% of the things our PA tells us we should be doing.
Like yesterday, she asked if I was still breastfeeding. I said yes and then she gave me the scrunchy face (don't tell me you've never seen the scrunchy face) asking if I was ready to be done with it. I felt as if she was implying it to be an inconvenience or burden. I answered that, no, I wasn't looking forward to stopping. Her response was that since he is a year old now, I should wean him and start giving him whole milk. Um.. uh.. I didn't know what to say. So many things floated through my head. Should I tell her the CDC reccomends breastfeeding to 2 years of age? Should I remind her that we are practicing baby-led weaning? Should I ask her why she recommends such a thing? Should I start chanting "cow milk is for cow babies, human milk is for human babies?"
I ended up doing my go-to smile and nod. I didn't want to hurt her feelings, I didn't want to be a snotty know-it-all and I didn't want to be the crazy mom that starts chanting things. So, smile and nod it was.
This was one of three S&N's (a.k.a. smile and nods) today. Another was when she started talking about television. This is a hot topic and there are a lot of different views on it. I vowed to not let Mason watch TV until he was at least 2 years old. I failed there. We use the TV as a distraction during diaper changes and sometimes when I clip his fingernails. Sometimes there is something on that captures my attention (don't tell me you can just shut Jeopardy off without a second thought) and I'll be sucked in after the diaper change is over. My will power eventually kicks in and I hit the power button, but I always feel guilty for the five minutes I let slip by. We try not to turn the television on until after Mason is in bed, but there are a couple shows that we make exceptions for and try to keep Mason distracted with other things instead of watching. Because, when this kid sees the TV, he goes into instant Zombie Mode.
I was shocked when our PA said that 2 hours of television a day won't kill him, it is the 6-8 hours in front of the TV you want to avoid. I'll admit it made me feel better about the couple episodes of
Two and a Half Men
Mason has seen, but in no way made me feel they were justified. I'm sure she was talking something more on the "educational" side, but the are a lot of lessons to learn from prime time tv, no? Just kidding.
At his last appointment (9 months), she told us he needed to start learning to self sooth. We are totally not into that style of parenting. I feel like crying it out is dangerous and it makes me sad whenever I think of a baby crying and not being consoled. I can't help it!
Mason's stats were:
23lbs, 9oz for weight
28.25 inches for height
According to the folks at the clinic, he over the 95th percentile for weight, but we shouldn't be too concerned, especially if he's going to be weaning and eating more table food (gah!)
Well, I looked up charts for breastfed babies when I got home and he's actually pretty average. See?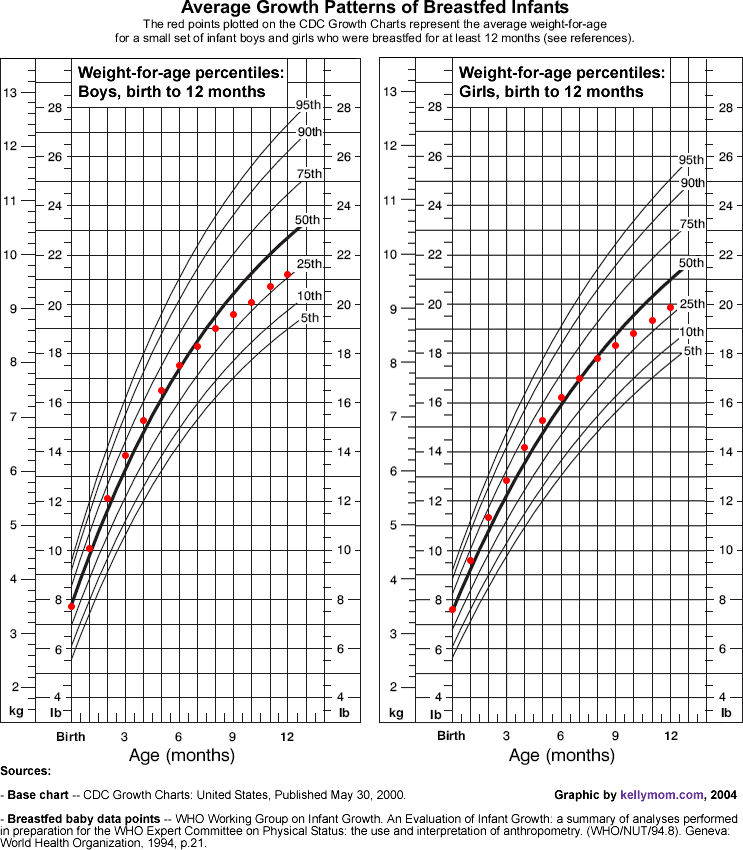 His height, no argument there. 5th percentile, he's short. But, I am, too. And Tyler is not giant himself. Maybe we'll start hanging him upside down for a couple hours a day (while he watches TV?) to stretch him out.
We do think the people at the clinic are super nice. Our PA is a wonderful person and we like her. But, needless to say, her approach to parenting (or advising) is completely different from ours. We don't see eye to eye and I never know what to say!
The question is, do we keep going there because it is so close and convenient? Do I speak up in the appointments? Do we look in bigger towns for someone who is on the same page as us? Decisions, decisions.
What would you do?
By the way, just because I don't make the same parenting choices as you, doesn't mean I don't support that your parenting style is your choice!